About Us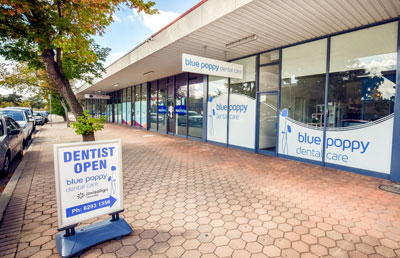 Our location in Tuggeranong Square Shopping Centre has been in operation as a dental practice for decades. However, everything changed when dental professional Bernadette Stevens took over and created Blue Poppy Dental Care in 2014. The practice has a fresh look, new policies and a drive to give you the best dental experience you've ever had. Our qualified, experienced team is ready to serve your needs and help you smile brighter!
Our Mission: Care, Create, Prevent
Care
When you walk in our door, you're greeted as a person, not a number. Our practice has a boutique feel to it, and you'll know that we care about you and getting to know you. The environment you walk into is one we've created to be soothing and warm so that you feel at ease from the moment you arrive.
Create
Our team of dental professionals gives you the best treatment options available to you. We'll never recommend anything you don't need and make sure you feel confident moving forward with all your questions answered. Your oral health goals are at the forefront of what we do.
Prevent
We hold a strong belief that prevention is the best medicine. Therefore, we work to educate our patients on healthy oral habits with an eye on prevention, so that you can enjoy great long-term oral health.
Dentistry for All Ages
From serving children to retirees, our dentists are well-versed in providing care for patients of all ages who need a variety of different dental procedures. General, cosmetic and children's dentistry care can all be found at Blue Poppy Dental Care. More specifically, we offer:
New patients and existing patients are warmly welcomed to get started on better oral health by scheduling an appointment today!

About Blue Poppy Dental Care | (02) 6293 1356