General Dentistry at Blue Poppy Dental Care
Preventing Dental Problems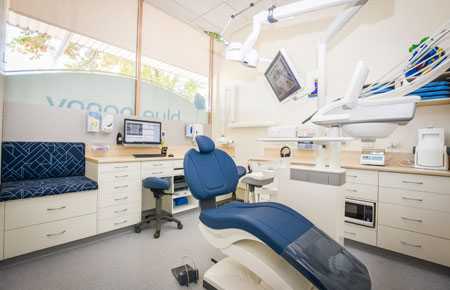 Many dental diseases and conditions are preventable, although our modern lifestyles sometimes make prevention somewhat of a challenge. Many people find that they are:
Too busy and distracted to properly clean their teeth or attend regular dental appointments
Often tempted to consume sugary and acidic foods and beverages (leading to sensitive teeth and the development of cavities and gum disease)
Stressed and sleeping poorly (which may cause teeth grinding or lead to dry mouth)
Smoking or drinking alcohol or are poorly hydrated (potentially causes many problems including stained teeth, dry mouth, bad breath and even the development of oral cancer)
Not adequately protecting their teeth from potential damage in sports
Each of these situations, or a combination of several, has the potential to cause damage to teeth, gums and soft and hard tissues of the mouth.
New Patients

Regular Check-ups
Our dentists perform a thorough examination of your teeth and mouth on a regular basis, with the intention of identifying problems as early as possible. It's often possible to prevent disease from developing, to reverse the early stages of decay or gum disease, and, if dental disease is present, it's better to restore teeth when damage is minimal.
Taking Care of Your Teeth at Home
We also have a large range of quality oral health products, including speciality toothpastes, for sale at very competitive prices (prevention is so important to us that we don't mark up the prices, we just cover our costs!).
The benefits of taking a proactive and preventive approach to your dental health is that you'll probably find you'll need less comprehensive (and expensive!) work over your lifetime.
Experience Gentle Dentistry
Our team is here to assist you in reaching your smile goals. Would you like to learn more about general dentistry? We enjoy supporting people who share our proactive, preventive approach to dental health! Contact us to get started.
Any surgical or invasive procedure carries risks. Before proceeding, you should seek a second opinion from an appropriately qualified health practitioner.
---
General Dentistry Tuggeranong, Greenway ACT | (02) 6293 1356