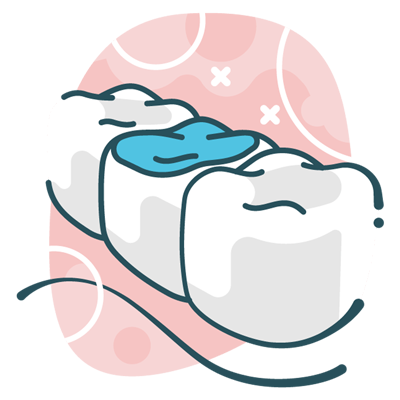 Dental Fillings at
Blue Poppy Dental Care
If a cavity develops, most often a filling of some kind will be necessary. At Blue Poppy Dental Care we provide tooth-coloured fillings in both front and back teeth. Depending on the size of the cavity, the location of the decayed tooth and the amount of biting pressure the tooth must withstand, your dentist will generally recommend one of two types of filling.
New Patients

Composite Resin is a dental plastic that is used to fill small to medium sized cavities in front and back teeth. It is tooth-coloured, and comes in a range of shades to match the teeth.
A composite resin filling can be placed in a single appointment. The dentist will remove decay from the tooth and ensure the cavity is clean: the composite resin then will be built up in layers and shaped to fit the tooth, and each layer will be set with a blue curing light. The filling will be polished so that it is smooth and blends into the natural enamel.
This type of material is not suitable for larger cavities or for teeth that are put under heavy chewing forces. If you have a cavity fitting this description, your dentist is likely to recommend a stronger and more durable filling material… porcelain.
When a cavity is large or in a location where chewing forces are strong, the best tooth-coloured filling is porcelain. Porcelain is strong and durable, and can also be matched to blend in with your natural teeth.
Porcelain fillings typically require two appointments: in the first appointment your dentist will remove the decay and smooth and shape the cavity, and will then take a mould of the tooth. This is sent to one of our trusted Dental Technicians, who uses the mould to make an accurate stone model of the space created for the new filling.
The technician will then use quality dental porcelain in the shade selected by your dentist to craft your new filling to fit precisely into the space. This will be returned to the practice and bonded into your tooth at your second appointment. Between appointments a temporary filling will be placed in the tooth.
Before placing a dental filling, your dentist will inform you of the need for a filling, make recommendations about the type of filling to be placed, and will give you an opportunity to ask any questions you may have about the procedure.
Help Your Smile Look Its Best
We'd love to help you maintain your oral health. If you'd like to schedule a visit to have a cavity filled or to simply have a checkup with our experienced team, contact us today to book your appointment. We look forward to welcoming you into our care.
Any surgical or invasive procedure carries risks. Before proceeding, you should seek a second opinion from an appropriately qualified health practitioner.
---
Dental Fillings Tuggeranong, Greenway ACT | (02) 6293 1356